Airbus has signed an agreement with semiconductor specialist STMicroelectronics to co-operate on power electronics research and development in support of hybrid and full-electric aircraft.
The co-operation will focus on developing semiconductors like silicon carbide and gallium nitride, which the partners say have "superior electrical properties" compared to traditional semiconductors.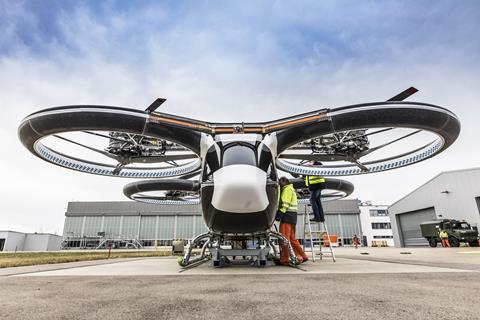 Airbus chief technical officer Sabine Klauke says: "Leveraging their expertise and experience in power electronics for automotive and industrial applications with our record in aircraft and VTOL electrification will help us accelerate the development of disruptive technologies required for the ZEROe roadmap and CityAirbus Next Gen."
Speaking during a press conference at the Paris air show today, Klauke added: "In the first place it will be about understanding each other and each other's world as well."
Airbus head of electrification Karim Mokaddem, referring to the potential development timeline, says: "The only calendar that we have is to make decision by 2025-26.
"In order to do that we have to see how the technology will evolve, what kind of tests we will be able to perform together."
Klauke notes full electrification is most relevant to projects like its four-seat eVTOL, CityAirbus Next Gen.
"As we have been talking about on the electrification roadmap from the beginning, we do think on the big aircraft there will be more hybridisation than electric," she says. "Whereas on smaller vehicles, like our CityAirbus Next Gen it could be 100% [electric]."