Airbus is to establish a specialist hydrogen technology centre in the UK to advance its efforts to put a zero-emission aircraft into service by the middle of next decade.
The Zero Emission Development Centre, complementing its UK research platforms as well as work in Spain, France and Germany, will be set up at the aerospace firm's Filton facility and focus on cost-competitive cryogenic fuel systems.
Technology development for the new centre has already commenced, and Airbus says it will cover a range of capabilities from components to full systems and cryogenic testing.
It adds that Airbus's UK operation specialises in end-to-end fuel system development and such equipment will be "crucial" to hydrogen aircraft performance.
Airbus's zero-emission facilities will be ready for Initial fully-functional cryogenic hydrogen tank ground-testing next year, and flight-testing in 2026.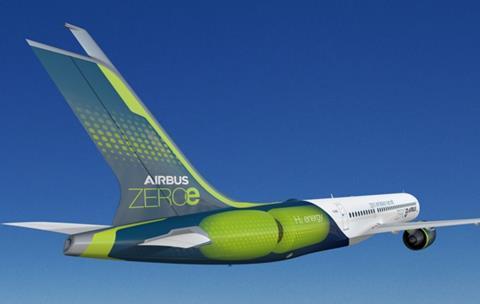 Speaking during an event in London on 25 May, Airbus chief executive Guillaume Faury remarked that he had viewed the high-speed Lockheed SR-71 reconnaissance aircraft at Washington's National Air and Space Museum.
"We think the hydrogen aircraft, the first fully decarbonised [aircraft] is a fantastic innovation," he says. "When you look at what they did on the SR-71, that's very inspiring. They did so much in a short period of time that it gave me a lot of energy – that we're going to make it on the hydrogen [aircraft]."
Faury stuck to his belief that a zero-emissions aircraft could be ready by 2035.
Airbus says it will benefit from a UK government commitment to guarantee £685 million ($860 million) in function to the Aerospace Technology Institute over the next three years, intended to support low-emission aircraft innovation.
"We can continue to invest in one of our largest [research and technology] programmes, the 'Wing of Tomorrow', based in Bristol and Broughton, and launch new [research] development around fuel and landing systems," adds Faury.
Airbus chief technology officer Sabine Klauke says the establishment of the UK zero-emissions centre will expand the company's industrial development and testing capabilities for cryogenic hydrogen storage tanks and associated systems for the airframer's ZEROe project.