Airbus UpNext, the airframer's innovations arm, will early next year begin flight tests of a Cessna Citation VII business jet that it will eventually modify with a wing that can automatically change shape in flight.
Performed under its 'Extra Performance Wing' initiative, the project will marry several different technologies, including gust sensors and morphing structures, to validate aerodynamic performance improvements that could be applied to a future aircraft.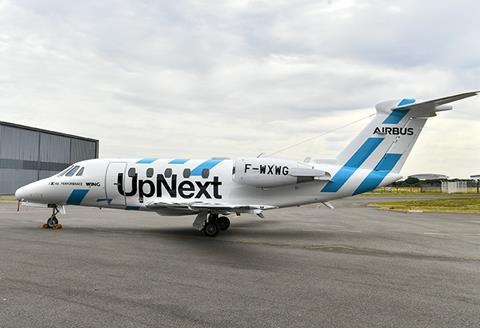 Airbus UpNext launched the demonstrator programme in September last year, and, says the unit's chief executive Sandra Bour-Schaeffer, "we are progressing very fast on this wing".
Speaking to FlightGlobal at an Airbus event in Ottobrunn near Munich on 1 December, she said initial proving and validation flights of the Citation VII will take place in early 2023 to establish its baseline performance.
By that point, the jet will be equipped with a flight-control system allowing it to be piloted from the ground.
The Citation VII will then be flown to Cazaux air base in southwest France, where the structural modifications will take place; test flights of the extra-performance wing will start in 2024, Bour-Schaeffer adds.
Airbus has previously released images of the jet (F-WXWG), which Cirium fleets data identifies as a 1999-built example.
Bour-Schaeffer sees potential for the technologies being evaluated to deliver a fuel-burn saving of 5-10%.
Features incorporated into the wing include: gust sensors, pop-up spoilers, multi-functional trailing edges and a semi-aeroelastic hinge.
The wing surface would automatically reshape "depending on what atmospheric conditions the aircraft is meeting", she says.
Staff from the project are also collaborating with the separate Airbus Wing of Tomorrow programme, which is exploring new approaches to the design and manufacture of composite wings, she adds.
Meanwhile, Airbus UpNext is also preparing for the start of test flights under its Blue Condor contrail measurement project.
This will use a pair of modified Schempp-Hirth Arcus-J gliders – one equipped with a standard combustion engine and the other a hydrogen-burning unit – to evaluate contrail formation and emissions from a scaled-up hydrogen engine.
Measurement flights with partner Project Perlan will take place over North Dakota in the USA in the first or second quarters of 2023.
"They could be very quick or longer depending if we get the right measurements. But it is not something that will last years," she says.
However, modelling using the data collected will be a more time-consuming process, she adds. "[Hydrogen propulsion] is really something that we learn on – nobody really knows today."
Bour-Schaeffer says initial validation flights of the gliders have already begun but have yet to employ the hydrogen engine.
Separately, Airbus UpNext has signed an agreement with CERN, the European Laboratory for Particle Physics, to evaluate how superconductivity can contribute to the decarbonisation of future aircraft systems.
Called SCALE – super-conductor for aviation with low emissions – the demonstrator aims to promote the adaptation and adoption of superconducting technologies in airborne electrical distribution systems.
Superconducting technologies could improve the performance of electric components and help to shed weight from the electrical system.
SCALE seeks to develop and test in laboratory conditions, an optimised generic superconductor cryogenic powertrain of around 500kW by the end 2025.
Airbus UpNext is already working on a separate superconductivity demonstrator. Called ASCEND – advanced superconducting and cryogenic experimental powertrain demonstrator – experiments using a bespoke 1MW ground-test rig at its E-Aircraft System House in Ottobrun will take place next year.
Assembly of the ASCEND test equipment at Ottobrunn is already under way; trials will run for around four to six months.
Although not part of the airframer's wider ZEROe project, superconducting technologies matured through SCALE or ASCEND could support development of a future fuel cell-powered or hybrid-electric airliner for deployment by the middle of next decade.

Dominic Perry is deputy editor of Flight International but also contributes extensively to flightglobal.com. Although specialising in the coverage of the helicopter industry, he has written on most topics in aerospace – be they commercial, defence or business aviation. In addition, there has been an increasing focus on the decarbonisation of the industry and zero-emission flight initiatives.
View full Profile