Airbus, Boeing and Embraer have dismissed the idea of modifying cabin air supply systems to create 'air curtains' between passengers in order to reduce instances of viral infection.
During an 8 October IATA briefing on the risks of Covid-19 transmission on board aircraft, Bruno Fargeon, who leads Airbus's 'Keep Trust in Air Travel' initiative, said the European airframer had conducted a "huge amount of study" on the feasibility of creating air curtains between passengers.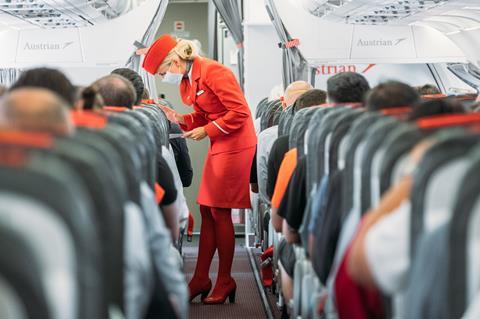 Airbus is still assessing how to optimise the positioning of the above-seat fresh-air gaspers that can be individually adjusted by passengers on some aircraft.
In wider studies of how droplets from coughing passengers travel within aircraft cabins, he says, the airframer tested different gasper positions and found that the "optimum" airflow direction was straight down toward passengers' knees and cabin air extraction openings near the floor – rather than toward faces.
"We are still considering the case of the gaspers [and] what we can do to make a difference," adds Fargeon.
He warns that creating distinct, downward airflows between seats could result in "too much" isolation and disrupt temperature control across the cabin, which could be "extremely uncomfortable" for passengers.
Current cabin air management systems are carefully designed to take cabin occupancy into account, notes Fargeon: "We tune the temperature seat by seat when we design our airflow."
Embraer vice-president of engineering, technology and strategy Luis Carlos Alfonso – who participated in the briefing alongside Fargeon and the engineering director of Boeing's Confident Travel Initiative, Dan Freeman – describes air curtains as "not a good idea", likening them to the seat dividers that were proposed by several interior suppliers in an earlier phase of the pandemic.
Alfonso says the Brazilian airframer is exploring other avenues, including use of consumable surface covers, in order to improve sanitary conditions. "Curtains don't seem to be the best opportunity," he says
Freeman echoes Fargeon's views on the subject. He says Boeing arrived at "exactly the same" conclusions in its studies as Airbus.
In June, US design agency Teague – a long-standing Boeing partner – published its "AirShield" proposal of a retrofitable gasper modification to create air curtains between seats.
Soon thereafter, German interior manufacturer Diehl told Cirium that it was pursuing a similar project, albeit not based on gaspers.
Diehl said it was evaluating a retrofit solution that would change the fresh-air flow pattern of the overall cabin air-conditioning system to create distinct downward airflows around passengers in order to contain and extract potential aerosols.