South African regional operator Airlink has extended a multi-year engine MRO contract with Rolls-Royce for its AE3007 powerplant.
The 10-year renewal, signed under R-R's TotalCare aftercare service solution, will cover the airline's fleet of 28 ERJ-135 and ERJ-140 regional aircraft. The carrier has a pool of 64 AE3007 engines.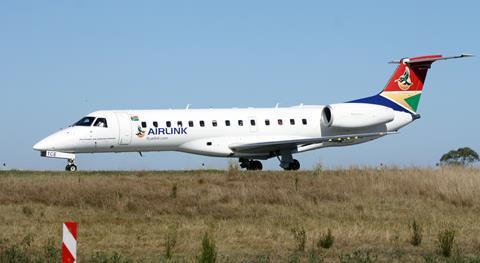 R-R vice president (customers), Europe, Middle East and Africa Stewart Evans says: "Our partnership with Airlink goes back to 2001 and this TotalCare extension is a testament to our strong working relationship and mutual trust of one another.
"I'm especially proud of the way both teams have worked closely together during the pandemic to manage maintenance costs effectively for both parties whilst enhancing our service offering at the same time," Evans adds.
Airlink chief Rodger Foster says: "Our TotalCare service agreement has been key to the management of engine maintenance costs and to ensuring the economic sustainability of the ERJ135 type for the foreseeable future."
The regional carrier currently operates a reduced network to 45 points across 12 African countries.