Chinese MRO Ameco has commenced modification works on Comac's ARJ21 regional jet.
The Beijing-based company, which did not specify what the works entail, adds that the first example will enter service at the end of the year.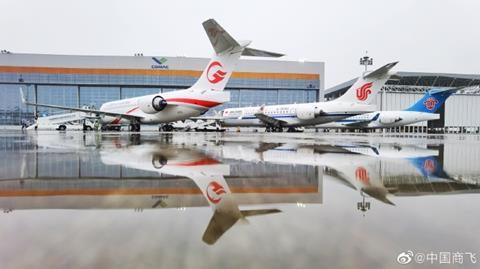 Both Comac and Ameco entered into a joint design partnership more than four months ago. The MRO states that it has "successfully passed…[a] key design review" for ARJ21 modification works, and that the project is "progressing smoothly".
Ameco's disclosure is the first such announcement from a major Chinese MRO on maintenance and overhaul works for Chinese-made aircraft since the ARJ21 entered commercial service in 2016.
At the Aviation Expo China in Beijing in 2019, Ameco told FlightGlobal it was open to taking on MRO works for Chinese aircraft, such as the ARJ21 and the in-development C919 narrowbody.
Cirium fleets data shows there are 54 ARJ21s in service, with more than 370 examples on order.