Antonov is hoping to reach an agreement with Canadian authorities on development of a extensively-modernised version of the An-74TK-200 airlifter for North American and other international markets.
The Ukrainian airframer says it has held a series of discussions with Canadian representatives on creating the new aircraft.
It envisions the development as a joint project with a Canadian industrial contribution and is supporting a detailed study to establish technical requirements.
The basic An-74TK-200 is able to transport 52 passengers, or serve as a freighter capable of carrying 1.8t over a range of 2,300nm or up to 10t over 510nm. It has been designed for harsh conditions, including those in the Arctic, and to operate in remote areas with limited runway availability and weak infrastructure.
Antonov says it has submitted proposals to aerospace and defence association Ukroboronprom as well as the strategic industries ministry, ahead of the signing of a memorandum of understanding on broader aerospace, security, and defence co-operation with the Canadian Commercial Corporation in June.
The Canadian Commercial Corporation assists Canadian suppliers with exporting to foreign governments.
Ukroboronprom points out that the aircraft has been unable to meet market demand because a significant number of components are manufactured in Russia, and claims this has hampered certification in Europe and North America.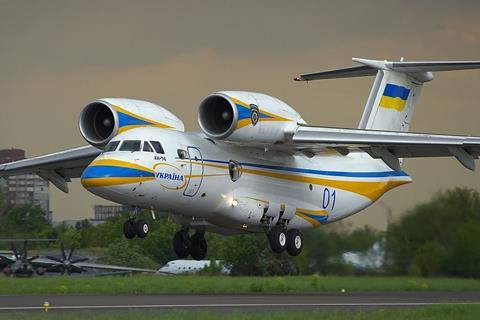 It states that the proposed modernised aircraft would feature a 'glass cockpit' instrument panel and introduction of other advanced technologies. The ability to serially produce the twinjet type, it says, has previously been demonstrated by Ukrainian manufacturers.
Final assembly would be undertaken by production facilities in Ukraine and Canada, the association says. Certification and production of the aircraft, it adds, would assist the Ukrainian aerospace industry in emerging from a "long crisis".
Antonov says a formal implementation of the An-74TK-200 project would require an intergovernmental agreement between Ukraine and the Canadian province of Quebec.
Canadian independent government relations firm Capital Hill Group has been working to obtain political support to continue negotiations over the project.