Belgian business aviation services company ASL has created a new division dedicated to providing "boutique" scheduled services to European destinations using a pair of VIP-configured Embraer regional jets.
Operating under the brand name ASL Fly Executive, the first route will launch on 4 July connecting Brussels to Ibiza with flights departing Saturday and returning the following Wednesday. The service will initially operate for eight weeks using a 30-seat ERJ-135LR and 42-seat ERJ-145LR.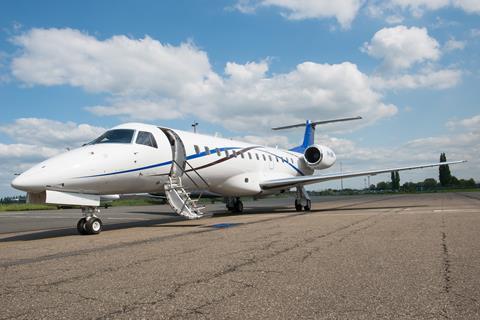 Maxime Wauters, ASL's marketing manager, says the decision to launch the first service to Ibiza follows demand from the local population and some charter customers. "Ibiza is a very popular leisure destination in the summer months," he says. "Europe is gradually opening up after the coronavirus pandemic forced us into lockdown, and people are looking for safe ways to travel to the Spanish island."
Wauters says by connecting to fixed-base operations (FBOs) at Brussels Zaventem and Ibiza airports, passengers can bypass busy commercial terminals and airlines "leaving them less exposed to the virus and saving a great deal of time at both ends of the journey". The flight costs €500 ($565) each way, "which customers are happy to pay, for a good service", Wauters adds.
ASL is looking to add extra routes, potentially including Brussels to Geneva, and to London City airport in the heart of the UK capital. "We are also looking at Antwerp and Eindhoven [the Netherlands] as other departure points," says Wauters.
The ERJ-135LR and ERJ-145LR were added to ASL's fleet in May 2018 and August 2019, respectively, following conversion from passenger airliner to VIP configuration. The pair are also used for large-group transport covering a range of clients including sport teams, rock bands and government delegations. The ERJ-135LR has range of 1,750nm (3,200km) while the larger, heavier ERJ-145LR can fly 1,550nm.
"We will add more aircraft to the Fly Executive fleet if there is enough demand on our routes," says Wauters.
ASL is one of Europe's largest business aircraft charter and management companies, with a fleet of 40 light, midsize, large-cabin and long-range business jets and turboprops. Its ground handling division operates three FBOs located at Antwerp, Groningen and Maastricht airports. A facility at Liege airport will open at the end of the year, says Wauters.