Seven WestJet Boeing 737-600s have been divested to a US-based firm which will tear down the aircraft for parts.
Aventure Aviation is picking up the twinjets which are in storage at a facility located in Marana, Arizona.
The aircraft were all manufactured in 2005 and 2006.
"We are constantly seeing new ways to support our global customer base, who trust us to provide quality parts on time with full traceability and recent shop work," says Aventure product line sales director Andrew Crombie.
He says the newly-acquired aircraft add to 15 others dismantled in recent months, enabling the company to supply inventory to its customers.
Atlanta-based Aventure identifies the seven ex-WestJet aircraft as bearing serial numbers 34284, 34285, 34286, 34287, 34288, 35111 and 35112.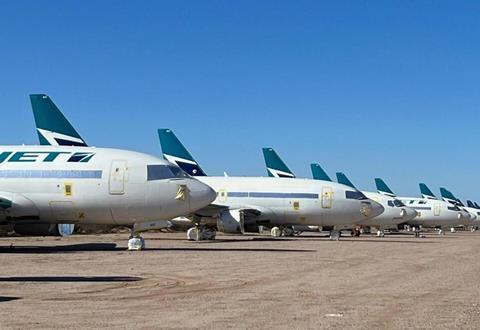 Boeing's 737-600 was the shortest variant of the 'NG' family, but the airframer only delivered 69 of the model. Like other members of the family, the -600 was fitted with CFM International CFM56 engines.
WestJet took delivery of 10, according to Boeing's official figures. Other key operators included SAS, Air Algerie and Tunisair.
"We are in active discussions to find solutions for idle aircraft," says Aventure president Talha Faruqi.
"We are seeing an increase in inquiries from investors looking for options to diversify their portfolios."