Helicopter operator Bristow Group is ordering up to 55 eVTOL aircraft, further cementing its venture into the emerging electric aviation sector.
The company has signed for US firm Beta Technologies' ALIA-250 which will be capable of accommodating a pilot and five passengers.
Bristow's agreement for five firm and 50 optioned aircraft follows previously-disclosed plans to acquire eVTOL models from Embraer's Eve and the UK's Vertical Aerospace.
It has also unveiled agreements centred on the Elroy Air Chaparral, Lilium Jet, and the Electra hybrid-electric aircraft.
The ALIA-250 will have a 250nm range and payload capability of 635kg (1,400lb).
Its design features a carbonfibre fuselage, 50ft wingspan, and will be powered through a distributed electric propulsion system – including four horizontally-mounted vertical-lift rotors and single aft propeller.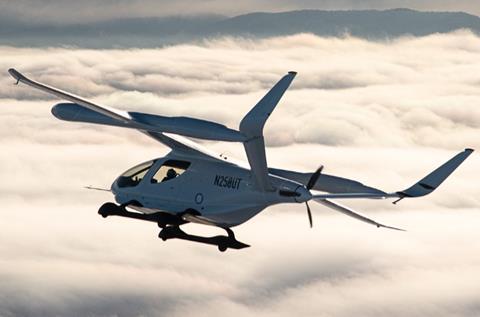 Battery charging will be accomplished in less than 1h using Beta's infrastructure – either with a standalone point for airport operations or through an off-airport charging pad.
"This order firmly positions Bristow as an early adopter and leader in pragmatically developing advanced air mobility operations and ushering in a new era in vertical lift solutions," says Bristow executive vice-president Dave Stepanek.
He says the company intends to use the ALIA for transport of passengers and time-sensitive cargo.
Vermont-based Beta Technologies chief Kyle Clark says the company has "made strides" with flight-testing, and shown the aircraft will perform under in-service conditions.