Boeing has secured orders for two Boeing 737-800 Boeing Converted Freighters (BCF), as it announced an expansion of conversion lines in Asia, amid surging freighter demand.
The airframer states the firm order for the pair of freighters came from an undisclosed customer, bringing the total number of orders and commitments to 134.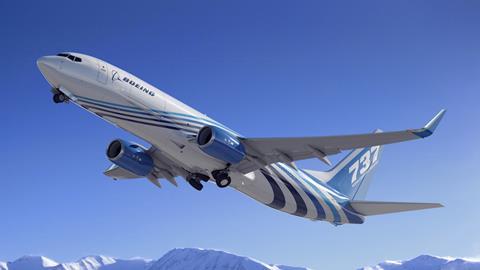 Cirium fleets data also indicates there are 32 737-800BCFs currently in service, with operators such as Amazon Air and SpiceJet.
Meanwhile, Boeing will launch additional freighter conversion lines in Guangzhou and Singapore from the end of the year.
It will open a second 737-800BCF line at Guangzhou-based MRO GAMECO, about a year after it announced the opening of the first line. It is slated to commence operations early next year.
In May, GAMECO inducted its first aircraft into its freighter conversion line, a former AeroMexico 737-800 that first entered operations in 2000.
Boeing will also open a second conversion line for the 767-300BCF freighter at ST Engineering's Singapore facility. The airframer states the line will be operational by year end.
Boeing senior vice president for commercial sales and marketing Ihssane Mounir says: "The freighter conversion program is an excellent way to double the life of an airplane and provide operators with an economical way to replace less efficient freighters."
Mounir adds: "By working with our partners to add freighter conversion capacity, we look forward to meeting the strong demand in this market segment and helping our customers scale their operations."