Singapore-based Boeing Asia-Pacific Aviation Services (BAPAS), a services joint venture between Boeing and SIA Engineering (SIAEC), will cease operations in August, citing a "changing business environment".
In separate statements on 19 July, Boeing and SIAEC says the decision was made through "mutual agreement". They did not elaborate further on the reasons to cease operations.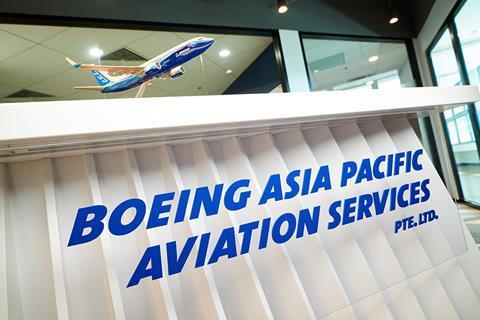 BAPAS, which began full operations in 2018, is 51% owned by Boeing, with SIAEC accounting for the remaining 49%. It provides fleet management services, including engineering, maintenance planning and scheduling, as well as operational control centre services, and materials demand planning and spares support for airline operators of the 737, 747, 777 and 787 in the region.
In a statement to FlightGlobal, Boeing says: "This is not a decision we made lightly and we are committed to minimising the impact on our affected employees and customers.
The airframer adds: "Boeing remains committed to Singapore through its people, products, capabilities and investments in the country. Boeing's products and services continue to serve as the mainstay of Singapore's commercial aviation sector and in the modernisation and mission readiness of the country's defence forces."
BAPAS in August 2020 announced it was shedding about 13% of its workforce in Singapore, citing the continued impact of the coronavirus pandemic.
At the time it said it was "facing significant financial challenges" owing to a collapse in travel demand.
BAPAS is the only joint venture between Boeing and SIAEC. The latter has over the past year or so rejigged its joint venture and subsidiary portfolio, as part of a company-wide review.
For instance, in October 2021, it divested its shareholding in engine overhaul joint venture Asian Surface Technologies. In May this year, it acquired a majority shareholding in SR Technic's Malaysian unit.