Bombardier Aerospace is confident of avoid any significant impact on customer deliveries following a fire at its Belfast facilities.
The aircraft manufacturer says the fire, which broke out on 24 March, was contained within one area of the plant.
"While there is damage to some machinery and a portion of the roof, there is no damage to any aircraft structures or aerostructure assembly lines," the company states, adding that work has resumed in other parts of the facility.
It credits the Northern Ireland Fire & Rescue Service as well as its own safety systems and protocols within averting a more serious situation.
"We will work with our customers and suppliers to address any production concerns," says Bombardier. "However, we are confident there will be minimal impact to customer deliveries."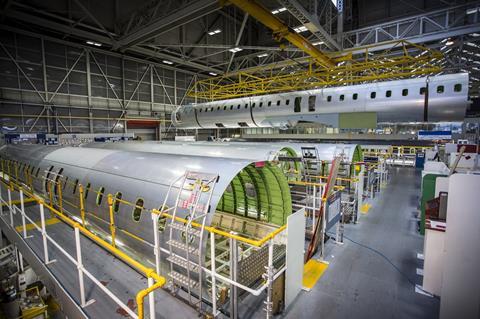 Fifty firefighters and other emergency personnel in Belfast attended the blaze at the facility, near the city's airport.
The Northern Ireland Fire & Rescue Service says it received a call at 20:45 on 24 May alerting it to the incident.
It states that it responded within 2min to the occurrence, involving a "factory unit" on fire.
Six firefighting pumping appliances and an aerial appliance, along with a high-volume pump, attended the scene.
The fire service disclosed at about 23:00 that the situation was "under control" with operations being scaled back and turning to damping-down. No-one was injured.
Bombardier Aerospace's Belfast operation includes manufacture of a range of aerostructures including fuselage, stabiliser and nacelles for executive jets.
It had also been the supplier to the commercial aircraft programmes, producing wings for the Airbus A220 – formerly the Bombardier Cseries – before the production arm was sold to Spirit AeroSystems.
Bombardier also produces fuselage sections for the CRJ regional jet programme, which is being divested to Mitsubishi Heavy Industries.
According to the fire service, the blaze "appears to have started in machinery" but the cause is still under investigation. It states, however, that the fire is "believed to be accidental".