A senior Comac official has told local news media that the company will start delivering its C919 narrowbody aircraft in 2022, while stressing that the pandemic's impact on production is still "under control".
Comac deputy general manager and chief accountant Wu Yongliang was quoted in Shanghai-based news outlet The Paper as saying that the aircraft was still in the process of being certificated by Chinese aviation regulators.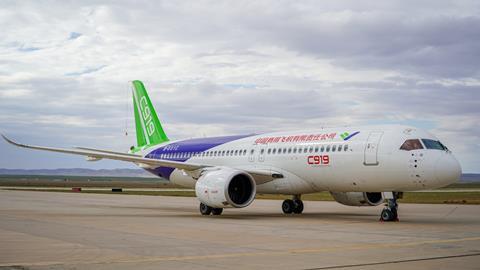 Comac had previously targeted type certification and delivery to launch customer China Eastern Airlines by end-2021. However, the airframer on 2 January said that its six test aircraft were still "undergoing test flights in several locations in the country".
Wu, in comments made at the sidelines of the a high-level political meeting in Shanghai, adds that work is progressing "in an orderly manner" even amid a recent spike of coronavirus infections across the country.
A report from Reuters in late September says the C919 programme — touted to be a homegrown competitor to Airbus' A320 family and Boeing's 737 programme — faces the likelihood of missing "certification and production targets", amid stricter US export rules.
The C919, though a Chinese aircraft programme, is highly dependent on Western technologies. The aircraft is powered by two CFM International Leap-1C powerplants, for example.
The Civil Aviation Administration of China has previously stated that it "places great importance in C919 certification work", and that it was "working closely" with Comac to complete airworthiness reviews and subsequent certification and service entry.
Launch customer China Eastern has five aircraft on order, and Comac holds commitments for close to 300 other examples.