Collins Aerospace has been awarded a contract for seven additional avionics shipsets for helicopters from Avic's Harbin Aircraft Industries Corporation (HAIG).
The contract signing was one of the two announcements the company disclosed on the first day of Airshow China 2022, the country's largest air show that is held in Zhuhai.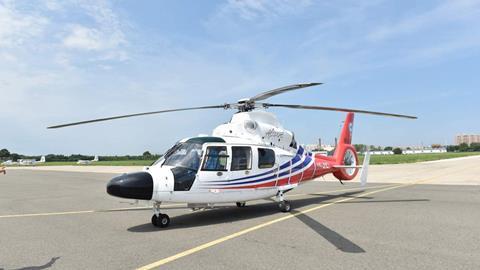 The contract for the HAIG AC312 rotorcraft will see Collins provide its helicopter cockpit display system, as well as communication, navigation and surveillance systems.
It is an extension of a long-term agreement first inked in 2015 between both parties for 100 shipsets, says Collins.
Grace Du, Collins' managing director of avionics, says: "This contract is testament of our capability to provide HAIG with solutions to meet their requirements of safety, reliability and efficiency now and for the long term."
Separately, Collins has received FAA technical standards order certification for its weather radar flat plate antenna, which will be installed on Comac's C919 narrowbody.
The antenna is designed by long-time Chinese partner AVIC Leihua Electronic Technology Research Institute (LETRI) and is among the range of surveillance products that both parties are working on for the C919 programme.
Comac's deputy general manager for procurement and supplier management Guo Jiawen says: "We are glad to see C919 equipped with indigenous [weather radar flat plate antenna], and it marks a great progress in the cooperation between Collins Aerospace and LETRI. The success of the C919 program relies on the successful cooperative partnership of our suppliers. COMAC is confident in the success of C919 with the support and commitment of our suppliers."
The C919, which will make its first public appearance at this year's Airshow China, is expected to enter service with launch customer China Eastern Airlines by the end of the year, following type certification in late-September.