Aerial firefighting specialist Conair Group has expanded a mission training system which networks simulators to allow pilots to practice and co-ordinate flights over wildfires.
The enhancement builds on a system initially developed as a proof-of-concept two years ago, and established with three simulated aircraft – a BAE Systems RJ85, a De Havilland Dash 8-400 and a Rockwell International Turbo Commander.
Conair Group says it has newly completed the networking of three more flight-training devices – a Cessna 208, plus amphibious and wheeled Air Tractor AT802s – bringing the total to six, ahead of this year's fire season.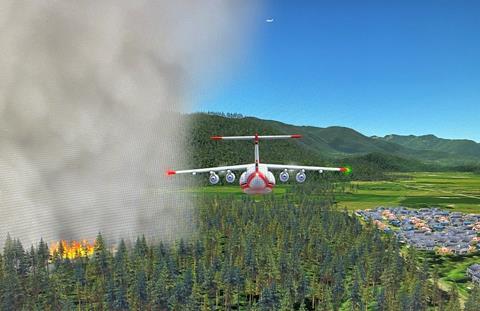 "Often there are multiple aircraft over a fire, challenged by smoke, turbulence, terrain, and heat," says simulator programme manager Mark Baird.
"Training together in an environment that mimics that real life, including complex radio communications, is beneficial for our crews – not just new pilots, but those with years of experience."
He adds that pilots can practice safely manoeuvring and emergency exercises which cannot easily be performed in flight.
"We can now offer our pilots training for the majority of our aircraft types," says Conair business development director Mike Benson. "Each flight-training device is an exact replica of our fleet cockpits."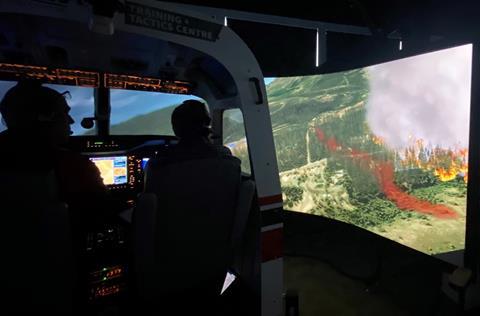 Canadian simulation specialist Presagis has designed the software for the aerial firefighting network.
It features high-resolution graphic capabilities with a 200°-by-45° field of view, and uses meteorological and terrain data, as well as extinguishing agent drop details, to reflect the behaviour of fire to the firefighting attack, and accurately recreate such aspects as smoke.
"Ground school is put into practice before the first challenging wildfire of the season emerges," says Benson. "Such highly realistic training helps ensure aerial firefighters are current and ready to respond effectively the moment there is a need."