Airbus has given a further sign of its confidence in single-aisle recovery, by resuming work on an additional assembly line for A321neo twinjets.
The airframer had unveiled plans for the modernised Toulouse line in January 2020, just weeks before the pandemic crisis forced it to slash production rates and shelve the work.
Airbus had already signalled that A320neo-family output would start to ramp up in the third and fourth quarters.
It says it sees a "potential return" to pre-crisis production rates for single-aisle aircraft between 2023 and 2025.
"With market recovery in sight…Airbus is resuming its activities for the [assembly line] project," it states.
Airbus is only able to produce A321neos at its Hamburg Finkenwerder and Mobile facilities.
But this re-engined variant has become particularly popular, with orders approaching 3,500, nearly double the total figure recorded for the conventional A321.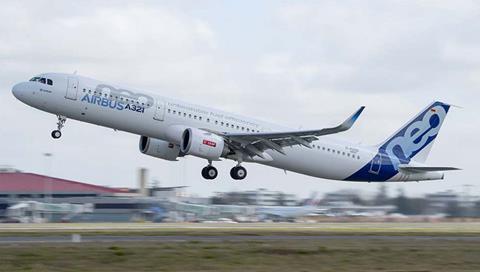 The A321neo is crucial to Airbus's post-crisis single-aisle strategy because the airframer is enhancing the twinjet's range and capacity, with the A321LR and A321XLR, edging into territory normally occupied by twin-aisle aircraft.
Airbus's new digitally-enhanced assembly line will replace one of the original A320 lines in Toulouse, offering the capability to manufacture the A321neo at the airframer's main base.
The line will be established at the Lagardere facility previously used for A380 production. Airbus expects it to be operational by the end of next year.
Production of A320neo-family jets was reduced by a third, to a monthly rate of 40 aircraft, as the crisis took hold. Airbus is looking to increase this gradually, to 45 by the end of this year, and has been exploring with its suppliers the options for further rate rises in 2022.
"The modernised [line] in Toulouse will help improve the working conditions, the overall industrial flow as well as the quality and competitiveness," says Airbus.
It says the additional production capability at Toulouse will provide flexibility to ease the initiation and ramp-up of A321XLR assembly at the Hamburg Finkenwerder site from 2023.