Such has been the sweeping impact of the air transport crisis that Rolls-Royce is floating the divestment of its Spanish-based turbine business ITP Aero just three years after its acquisition – having previously insisted the business was not for sale.
Rolls-Royce, which had long held 47% of ITP Aero, turned the venture into a wholly-owned subsidiary after picking up the majority 53% share from Sener Grupo de Ingenieria in a €718 million agreement.
This payment was ultimately made entirely in shares – a total of nearly 77 million, through eight transactions running to September 2019. Rolls-Royce's share price has since fallen by nearly 70% as a result of the pandemic.
ITP Aero is a risk-and-revenue share partner on eight Rolls-Royce programmes, as well as four others. It supplies low-pressure turbines, in particular, for the Trent XWB, Trent 1000, and Trent 7000, and has previously been involved in other major Trent powerplant production work.
The company also supplies sections for Pratt & Whitney PW1100G and Europrop International TP400 engines, and is engaged in other aerospace activities.
Absorption of ITP Aero was designed to obtain additional value from long-term aftermarket revenues, notably through the large civil engine sector, and Rolls-Royce insists it had not been planning to divest the company – rebuffing an approach from Spanish technology firm Indra which had sought a majority share in ITP last year.
"It's very definitely not for sale," Rolls-Royce chief Warren East stated at the time.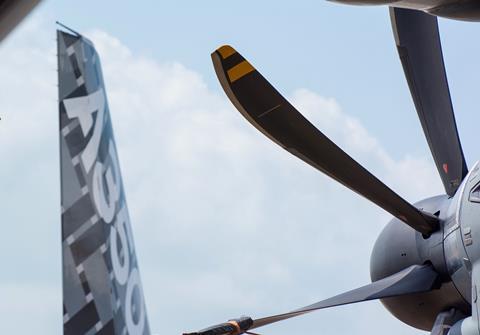 But the pandemic has forced a rethink on this stance. Rolls-Royce says the potential divestment of ITP Aero is "very much a [coronavirus] decision".
"[The crisis] is causing many businesses to look hard at how they operate, focus on what is core to their business or accelerate transformation," it adds.
"We have taken a fresh look at our portfolio in light of the pandemic and, while ITP Aero is a good and solid business, we do not necessarily need to own it."
ITP Aero's revenues for the first half of this year sank by nearly a quarter, the result of its exposure to long-haul engine programmes, but it nevertheless managed to generate a small underlying operating profit.
Rolls-Royce says that, although it expects a significant decline in ITP Aero sales, measures to reduce costs and improve profitability – including a proposed 15% adjustment in its workforce – should "stabilise" the division next year, and improve its performance in 2022.
Speaking during a half-year briefing on 27 August, East said Rolls-Royce had acquired ITP Aero for "quite a good price".
But he says the company is looking at a "series" of potential disposals to raise some £2 billion, adding that it needs to undertake an "intelligent recycling of capital". He declines to specify which other assets are being considered for sale.
Rolls-Royce will, however, maintain strong ties with ITP Aero. The Spanish company, which was founded just over three decades ago, is a partner in the future UltraFan engine programme.
UltraFan is a high-thrust geared powerplant featuring composite blades and a 15:1 bypass ratio, planned for applications beyond 2025 and offering a 25% reduction in fuel consumption compared with earlier-generation Trent engines.
ITP Aero is involved in development and manufacture of UltraFan sections including the intermediate pressure turbine.
Rolls-Royce also signals that it is prepared to expand ITP Aero's capabilities, enhancing the company's value as part of any eventual divestment.