Deutsche Aircraft is handing the high-profile wing production work for its D328eco modernised regional turboprop to German-based partner Heggemann – the firm which is already supplying landing-gear for the programme.
Heggemann will manufacture the wing box and powerplant support structure for the twin-engined aircraft.
Deutsche Aircraft is promoting the D328eco as an option for environmentally-conscious operators, and points out that the wing and its components – including the materials, surfaces and sealants – will be fully compatible with sustainable aviation fuel.
The company adds that the wing will be "aerodynamically optimised" and produced in line with 'Industry 4.0' concepts – the use of increasingly automated processes employing digitised smart technology.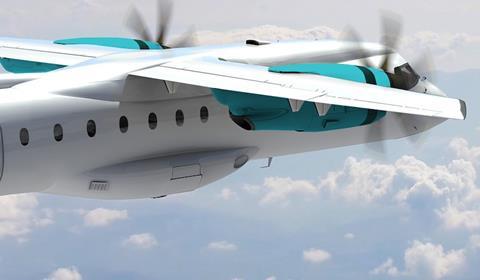 Heggemann, it says, also has industrialisation policies which align with Deutche Aircraft's aim to minimise environmental impact.
"Combining the advantage of Dornier wing structure, forward-looking [sustainable fuel] compatibility and Heggemann's production expertise, this partnership will create great synergy for the D328eco programme," says Deutsche Aircraft vice-president of operation and programme Nico Neumann.
He says Heggemann is the "perfect partner" for wing serial production on the aircraft.
Heggemann chief Christian Howe says the wing work will "strengthen" its partnership with the D328eco developer, adding: "We will use our engineering competence and innovation strength to implement state-of-the-art digital manufacturing strategies."