Middle Eastern lessor Aerovista is committing to four Airbus A321 converted freighters through a partnership with US finance firm Petrus Aviation.
The A321s will undergo modification by specialist 321 Precision Conversions.
Dubai-based Aerovista, which focuses its services on A320-family jets, identifies the initial two aircraft as MSN1451 and MSN1503.
Both are 2001 airframes, powered by CFM International CFM56 engines, and were part of the fleet managed by GECAS. Their operators have included Turkish carrier AtlasGlobal.
The jets are due to be inducted for conversion during the first and second quarters of 2023.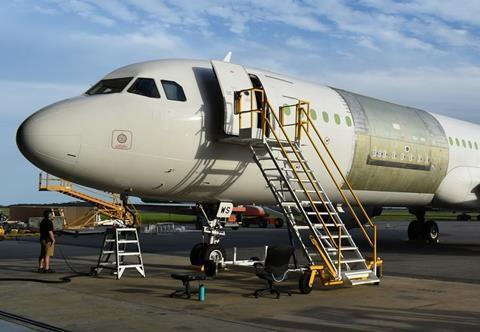 Aerovista has yet to disclose details of the other two A321s intended for modification.
But chairman Apandi Lakhiyalov says the company is "confident" that the tie-up with Petrus, and its entry into the cargo sector, will enable the two sides to "expand our mutual business".
Investing in the A321 freighters will complement Petrus's previous involvement in Boeing 737, 757 and turboprop conversions, says the company's president, CJ Lorio.
Lorio adds that the A321 offers "some compelling economics to cargo operators".