US operator Eastern Airlines has unveiled an ambitious plan to expand into the cargo sector through a new conversion programme for Boeing 777s.
While details of the programme are still emerging the carrier says the plan involves modifying the twinjet type into a Class E express freighter aimed at the e-commerce market – with the initial aircraft entering service in the first quarter of 2022.
Eastern says it has "secured the acquisition" of 35 aircraft for conversion feedstock. It has not identified the source of the aircraft, but it already has three stored 777-200ERs in its fleet, fitted with Rolls-Royce Trent 800 engines and formerly operated by Singapore Airlines, Malaysia Airlines and Kenya Airways.
It specifically refers to the 777-200 and -200ER, as well as the -300, variants but states that the plan remains subject to supplementary type certificate approval for the modification.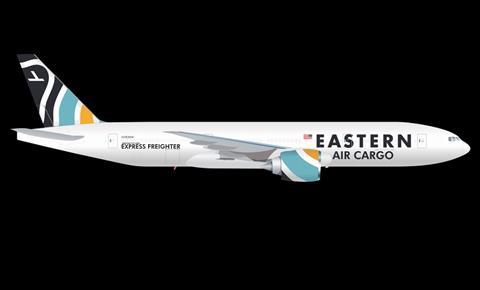 The 'EF' conversion will not involve installation of a main-deck cargo door – although Eastern indicates that a "future derivative" could feature one – but instead will turn the main-deck cabin into a hold for low-density freight.
Eastern indicates that the development will be internal, through its parent company's Kansas City engineering division Foxtrot Aero which, it says, provides passenger-to-freighter development.
"Our pioneering conversion method is tailored specifically to meet the needs of express package freight customers," says Eastern chief executive Steve Harfst.
The proposed 777-200EF and -200EREF would have payload capability of 65-75t, and respective ranges of 5,165nm and 7,665nm.
Eastern puts the payload of the larger -300EF – which would have 30% more main-deck volume – at 57-67t, with a range of just over 6,000nm.
The modification would include fitting a 9g restraint system, smoke barrier, and interior linings.
Eastern claims the aircraft would be capable of operating with a full-volume payload of express cargo on Asia-US routes.
It is establishing a new operation, Eastern Air Cargo, to oversee express freight sales and aircraft operations.
"Accelerated growth of this market has created excess demand for the service," says the company.
Harfst adds that Eastern plans to offer a "nimble aircraft solution" to customers who have "struggled to find capacity" in the cargo sector. "This move is not just a game changer for Eastern, it will also transform the industry," he states.