German aircraft modification joint venture EFW has delivered the first Airbus A330-200 passenger-to-freighter (P2F) aircraft to lessor Altavair, which will enter operation with Mexican cargo carrier MasAir.
The aircraft (MSN868) is the first of several A330P2F aircraft that Altavair has on order, comprising both -200 and -300 variants.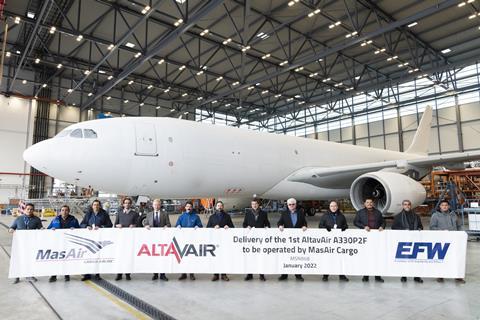 Cirium fleets data shows the aircraft was first delivered to Etihad Airways in 2007, and operated in passenger configuration until late-2019, where it was stored and subsequently sold for conversion in 2021.
With the new jet, MasAir will "build up a new Airbus freighter fleet" of A330P2F aircraft across both variants, says EFW. It will be the first carrier in the Americas region to operate the A330P2F aircraft, and the first in the world to operate both variants.
Says Altavair president and managing director Paul Newrick: "This investment reflects our belief that the A330 will be the premier freighter going forward in the widebody segment.
EFW, which is a joint venture between Singapore's ST Engineering and Airbus, also does freighter conversions for Airbus' A320 and A321 programmes. ST Engineering has said it will be ramping up conversion capacity in China and US this year, amid a surge in demand.
By 2024, EFW and ST Engineering expect to have about 60 Airbus P2F conversion slots.