Embraer has accused Boeing of deliberately wrecking the proposed tie-up between the two aircraft manufacturers, and is set to launch a damages claim over the collapsed deal.
While it acknowledges Boeing's notice of termination of the master transaction agreement – which set out plans for joint commercial and military aircraft ventures – the Brazilian company argues that Boeing has sought to "avoid its commitments" to the deal and "wrongfully terminated" the tie-up.
It says it will "pursue all remedies" against Boeing, alleging damages incurred by the decision.
"We believe Boeing has engaged in a systematic pattern of delay and repeated violations of the [agreement] because of its unwillingness to complete the transaction," says Embraer, in an unusually strong response to the Boeing decision.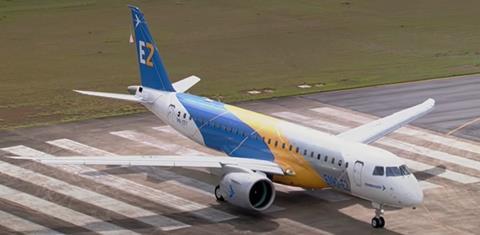 Embraer insists it is in "full compliance" with its obligations under the agreement and had satisfied "all conditions required" by the crucial 24 April deadline – in contrast to Boeing's claim that Embraer "did not satisfy" the necessary conditions.
The Brazilian firm believes Boeing – under pressure financially from the 737 Max grounding – has been seeking to abandon the tie-up, part of which would have involved its paying $4.2 billion for an 80% shareholding in Embraer's commercial aircraft business.
Embraer says it has managed to overcome "difficult moments" during its evolution, and says: "That's exactly what we are going to do again."
Boeing has responded to Embraer's accusations simply by saying it "believes it is within its rights to terminate the agreement".
"We exercised those rights when Embraer failed to satisfy the necessary conditions within the agreement," it adds.