European Union representatives are seeking proposals to receive a new round of funding in the Clean Aviation initiative intended to advance decarbonisation technology for air transport.
This second round of funding will be worth over €350 million ($375 million), including EU contributions of €137 million and private investment.
The call for proposals will run to 11 May.
Nine aspects are covered by the invitation, eight of which focus on technological developments with the ninth concentrating on methodology for monitoring aviation innovation's impact on the climate.
Some €65 million of the EU funding will be allocated to hydrogen-powered aircraft projects, including fuel-cell propulsion, direct-burn fuel distribution, and engine testing.
Among the objectives are development of fuel system test-rig equipment and finalisation of flight-test demonstrator components.
Another €32 million is assigned to advancing hybrid-electrical regional aircraft development. These will address such matters as fuselage and empennage design, and open digital platforms.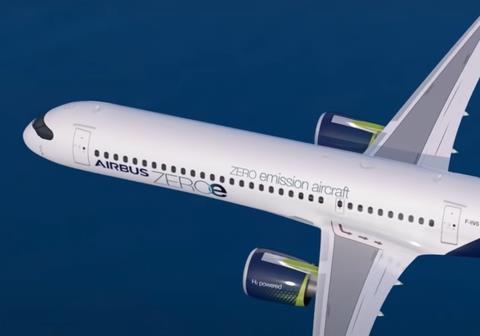 The Clean Aviation programme will also provide €40 million in EU contributions for short- and medium-range aircraft schemes, looking at wing technologies and flight demonstration for "ultra-efficient" propulsion systems.
Wing design work would examine aerodynamic optimisation, including solutions for unducted engine integration.
These initiatives will "accelerate aviation's trajectory towards climate neutrality", in line with the 2050 target timeline, says the Clean Aviation Joint Undertaking.
Executive director Axel Krein says the second call for proposals will advance "disruptive research" and help support progress towards entry-into-service of new highly-efficient aircraft by 2035.