Israel Aerospace Industries has conducted the maiden flight of its Boeing 777-300ER converted freighter, the first such sortie of the variant after cargo modification.
It departed Tel Aviv's runway 30 just before 09:00 on 24 March, to perform nearly 2h of flight tests over the Mediterranean Sea.
IAI undertook the conversion programme in partnership with GECAS – since absorbed into lessor AerCap – using an ex-Emirates aircraft originally delivered to the carrier in 2005.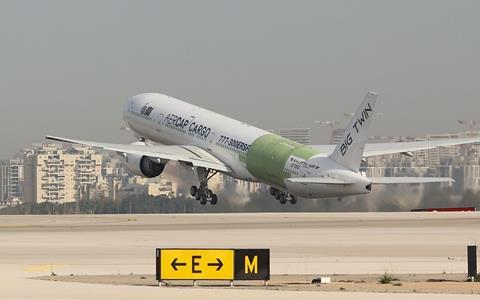 US cargo operator Kalitta Air is the first customer for the IAI-modified twinjet, which is designated the 777-300ERSF.
IAI says it is "in the final stages" of certification for the aircraft – which it calls the 'Big Twin' – adding that it has a firm backlog of more than 60 which will be delivered over the next five years.
The aircraft will be capable of transporting a payload of 100t.
It becomes the latest addition to an IAI cargo modification portfolio which also includes 747-400s, 767-200/300s and 737-700/800s.
IAI is setting up a number of conversion facilities to support production of freighters and complement its original line.