Israel Aerospace Industries has flown a Boeing 777-300ER set for freighter conversion in a formation to mark the anniversary of Israeli independence.
The company says the 15 April flypast – which took place over several locations including Tel Aviv, Jerusalem, the Dead Sea and Masada – included a pair of Gulfstream G280 executive jets flying alongside the 777.
Israel Aerospace Industries says the 'Big Twin' programme, jointly run with US lessor GECAS, to develop a supplemental type certificate for a 777-300ERSF freighter conversion has passed the halfway point.
As a result the initiative is moving beyond the planning phase into the stage of physical modification of the General Electric GE90-powered aircraft.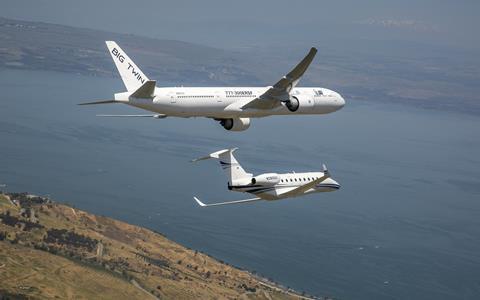 The twinjet (N557CC) was originally delivered to Emirates as A6-EBB in March 2005 and left the Dubai-based carrier's fleet last year.
"We've begun executing on the dedicated freighter design developed by the IAI and GECAS Cargo team towards manufacturing the kits, and the actual conversion phase under licensing from Boeing," says GECAS Cargo senior vice-president Rich Greener.
IAI says the 777 will be formally inducted to the company's Tel Aviv passenger-to-freighter conversion line in order for the modification to begin at the end of June.
The 'Big Twin' programme has passed the critical design review and design-freeze stages.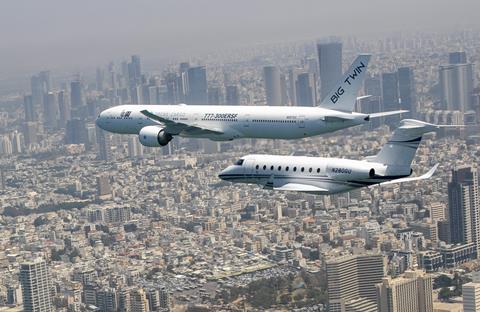 GECAS delivered the aircraft, MSN32789, to the Israeli facility in June 2020, and the jet has since undergone ground and flight testing on transatlantic routes to the USA, before being returned to Tel Aviv.
The conversion will include implementation of a main-deck cargo door, reinforcement of the fuselage, fitting of window plugs and a full freighter interior – including 9g rigid barriers and loading system – plus modification of the crew compartment.
Kalitta Air is set to be the launch operator of the aircraft. IAI executive vice-president Yosef Melamed describes the preparation for the next stage of conversion as an "exciting milestone" for the programme.