The first Airbus A321P2F converted freighter has entered service with launch customer Qantas, which will operate it under a partnership with Australia Post.
Qantas will take up to three A321P2Fs, which it notes offers an additional 9t payload over the Boeing 737-300Fs it uses on domestic freight services.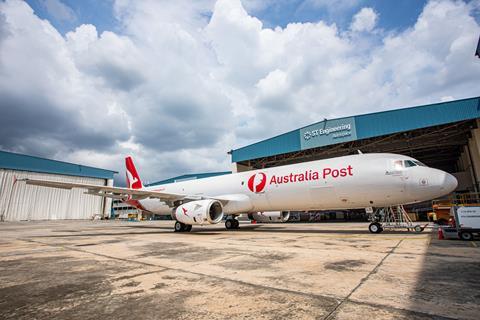 The aircraft, registered VH-ULD (MSN835), was first delivered to UK carrier BMI in 1998, according to Cirium fleets data.
The International Aero Engines V2500-powered jet later operated with Turkish carrier Onur Air, before being brought in for conversion in 2018 by asset specialist Vallair.
Fronting the A321P2F conversion programme is Singapore-based aerospace giant ST Engineering, which is working on the modification together with Airbus and its EFW joint venture in Germany.
The entry into service caps off a series of certification efforts throughout the year, with the European Union Aviation Safety Agency (EASA) issuing the original supplemental type certificate in February, and the US Federal Aviation Administration following suit in July.
Following that, ST Engineering incorporated operator-specific enhancements to the aircraft, before it was certified again and redelivered to Qantas.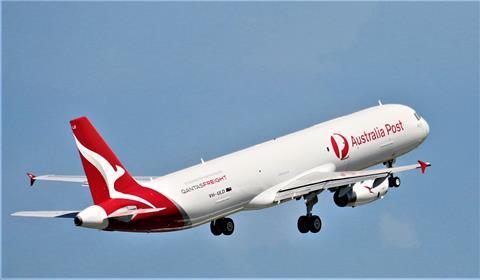 Jeffrey Lam, president for ST Engineering's aerospace unit, says: "The completion of our first A321P2F is timely, as the programme can help airlines breathe new life into underutilised aircraft, which would otherwise suffer a harder landing in their residual value."
ST Engineering recently announced plans to ramp up A321P2F conversions, more than doubling the number of converted freighters – from nine to 25 annually.
This will be done by setting up A321P2F capabilities at its existing airframe MRO facilities in the USA and China. A321P2F conversions are currently done in Singapore and the EFW facility in Germany.
The A321P2F offers containerised loading in both main and lower decks, with up to 24 full container positions available on board. It can carry more than 28t of freight over 2,300nm, states ST Engineering.