Sir Stephen Hillier has received parliamentary approval to become the new chair of the UK Civil Aviation Authority (CAA), with one of the former Royal Air Force (RAF) chief of the air staff's first tasks to be helping to steer its departure from European Union Aviation Safety Agency (EASA) control.
The CAA on 7 May named Hillier as its preferred candidate to succeed Dame Deirdre Hutton, with his selection endorsed on 9 June by the House of Commons' cross-party Transport Committee.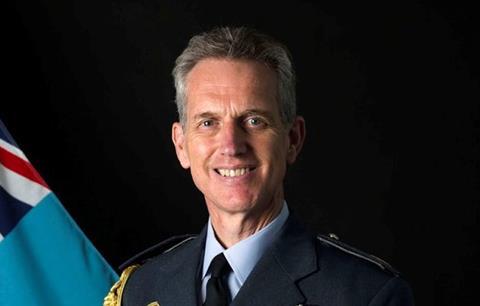 Speaking to committee members on 5 June, Hillier outlined his ambitions for the UK aviation regulator in a post-EASA era, and detailed the sector's challenge in recovering from a coronavirus-driven collapse in demand for air travel.
"My task is to make sure that we continue in the CAA to be a world-class regulator," he says. "What is going to be the biggest challenge is the amount of change that we are now facing.
"In addition to the safety functions, we have a clear role to look after consumers in every respect," he says. "People are also interested in how we take responsibility for our regulation back from EASA [and] looking at how we recover in an environmentally sustainable way."
Hillier identifies his first priority was continuing the CAA's primary duty: "to protect the safety of those who fly and those who are on the ground underneath platforms that are flying".
Secondly, he identifies the need – as exposed during the coronavirus crisis – to "generate greater resilience in the aviation sector" to cope with such shocks.
"We need to deal with rapidly changing technology [and the] increasing exploitation of unmanned systems, drones and the space environment," he says. "We need to deal with rising consumer expectations. I need to make sure that the CAA has the capabilities, the agility and the adaptability to be able to function in that environment."
Pointing to the UK regulator's long contribution of knowledge and expertise to EASA – an organisation that it will leave before the end of 2020 ­– he notes: "It is not as if we are starting from a blank sheet of paper. The sheet of paper has EASA written on it at the moment. We are working from that as our baseline, and then on what we need to do to take our national responsibilities, and still have relationships with EASA, ICAO and the like."
Hillier points to his "lifelong experience of working in aviation in highly regulated environments and leading at a strategic level in complex and demanding positions", including being chief of the air staff for a three-year period concluding in July 2019.
Having first gained a private pilot's licence at the age of 17, his career in the RAF included being a pilot on Panavia Tornado GR1/4 strike aircraft and air officer commanding the service's 2 Group organisation. The latter post included having responsibility for the operation and safety of its air transport, tanker, and intelligence, surveillance, target acquisition and reconnaissance aircraft fleets.
Hillier's appointment awaits final confirmation by Department for Transport secretary of state Grant Shapps.