France's government has unveiled a €15 billion financial support programme for the aerospace sector, intended to save jobs and transform smaller businesses while underscoring the need for environmental progress.
The government states that support – which includes the funding already unveiled for Air France-KLM Group – will be a mix of investment, loan guarantees, and subsidy to protect the "strategic" industry.
French economy and finance minister Bruno Le Maire outlined the plan during a presentation on 9 June, stating that he did not expect air traffic to return to last year's levels for two or three years.
"The industry produced, it employed, it innovated," he says. "The crisis put a stop to this growth."
Le Maire says 300,000 direct and indirect jobs are threatened including those of 35,000 highly-skilled engineers. Without public aid, he says, some 100,000 jobs will be at risk within six months.
He adds that some of the 1,300 French firms involved in aeronautics – particularly in the south and west of the country – could face bankruptcy.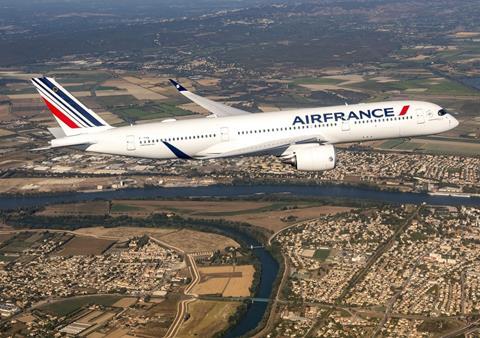 Airbus, Safran, Thales and Dassault are set to benefit from the French aid programme.
Under the scheme airlines will have a 12-month moratorium on reimbursement of export credit, and the government has also proposed to the European Commission a temporary relaxation of reimbursement procedures for new purchases of Airbus jets.
Companies will be able to put off reimbursement for 18 months rather than the usual six.
Small and medium-sized businesses in the aviation sector will be the target of two funds – a capital investment fund of €1 billion, active from July to shore up businesses' equity and support consolitation, plus a €300 million fund to support digitisation and robotisation.
Both the government and the four main aeronautical firms will contribute to the capital investment fund, while the state will fully finance the digitisation fund.
"The stakes are considerable," says Le Maire, pointing out that the French aeronautical sector needs to avoid falling behind Boeing and the rising Chinese rival Comac.
He acknowledges that jobs may nevertheless be lost as part of "necessary adjustments" in the wake of the crisis.
"Our objective is to avoid any enforced departure of highly-qualified employees over the next few years," he says. "Falling orders should not destroy skills that have been built over decades."
But the financial support scheme is also being tied to decarbonisation efforts, with targets to develop carbon-neutral air travel by 2035 rather than 2050.
"France can become the country of the carbon-free aircraft," says Le Maire, stating that the civil aviation research council CORAC will receive €1.5 billion in support over three years.
This aid is intended to enable development of technologies in France to cut fuel consumption, increase electrification, and explore carbon-neutral fuels. Le Maire adds that it will "guarantee the employment" of highly-qualified engineers.
Air France-KLM Group had already been in line to receive €7 billion in support comprising a state loan of €3 billion and bank loans of €4 billion. Le Maire says the conditions attached to the financing are designed to transform the carrier into the "most environmentally friendly airline on the planet".
Le Maire says that the "brutal" crisis in the sector threatens a €34 billion annual trade surplus, and that the recovery "will be slow".
"We want to declare a state of emergency to save our aviation industry and allow ourselves to be more competitive and more carbon-free in the 21st century," he says.