Chinese MRO provider GAMECO has completed work the country's first 767-300 Boeing Converted Freighter (BCF), more than half a year since the widebody conversion line began operations.
The aircraft (MSN41746) will be redelivered to DHL Aviation. According to Cirium fleets data, it was delivered in 2012 in passenger configuration to LATAM Airlines in Chile, before being stored in April 2020 amid the coronavirus pandemic.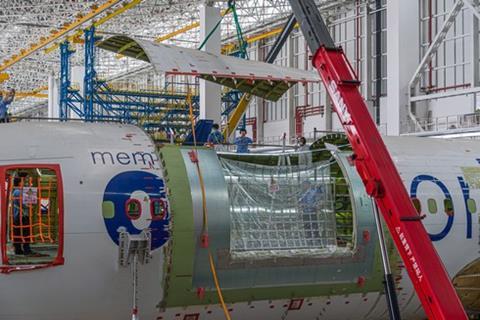 In early 2022, the aircraft, which is powered by GE Aviation CF6 turbofans, was then purchased by DHL and sent for conversion at GAMECO's Guangzhou facility.
Plans for two 767 conversion lines were first announced during the 2021 edition of Airshow China in Zhuhai, with GAMECO putting the first line into operations in the second quarter of this year. A second line began operating in September.
GAMECO also has three conversion lines for the 737-800BCF programme, which are also located in Guangzhou. It first began work on the 737-800BCFs in late-2019, and steadily ramped up production capacity by opening two more lines in its Guangzhou base.
GAMECO general manager Marc Szepan says: "Having all five Boeing conversion lines operational now, GAMECO continues to strive for continuously increasing productivity and efficiency to support Boeing and their customers. Their support enables us to further develop our operation and to build a solid foundation for the coming years."
Boeing China commercial sales and marketing vice president Peter Gao adds: "This marks the first redelivery for 767-300BCF airplanes from GAMECO, and there are more to come. The GAMECO conversion line in Guangzhou secures the capacity and ability to meet the needs of our customers in China and other global locations."
To date, the North American airframer more than 100 orders and commitments for 767-300BCFs.