Advanced propulsion specialist ZeroAvia has conducted high-power ground tests of a powertrain intended to support a hydrogen-electric engine for 19-seat regional aircraft.
The 600kW powertrain was mounted on a 15t truck and used to propel it along the ground at a test site in Hollister, California.
ZeroAvia says completing the test amounts to achieving its "first major milestone" for the HyFlyer II programme – the development of an engine for 10- to 20-seat aircraft.
The company previously wrapped up its HyFlyer I initiative which used similar technology, generating 250kW, on a single-engined light aircraft.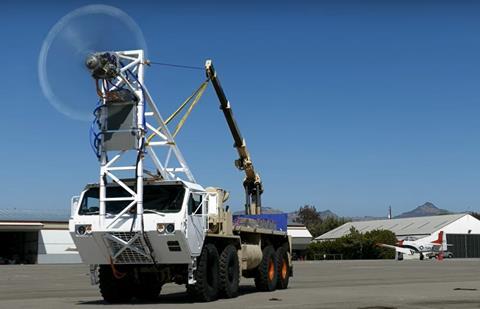 ZeroAvia is intending to modify Dornier 228 aircraft to accommodate the higher-power system, designated the ZA-600. It expects to carry out the first test flights at Kemble in the UK later this year.
The truck testbed run also confirms the operation of the company's control system and software, says head of testing and applications Gabe DeVault.
"Our US team is excited to support the important work of our colleagues in the UK and ultimately scaling up our proven hydrogen fuel-cell integration for larger commercial aircraft engines," he adds.
DeVault also says the truck – based on a military design – is capable of handling the planned larger ZA-2000 powertrain for 2MW applications, driving hydrogen-electric propulsion for 40- to 80-seat aircraft.