Israel Aerospace Industries has cut the main-deck cargo door opening for its prototype Boeing 777-300ER freighter conversion.
The 7m section has been removed from the twinjet's aft fuselage, between the rearmost passenger exits, an "important milestone" for the project, says the company.
IAI expects the conversion of the 777 to take around 130 days.
It says the successful cutting of the door slot, which spans about a third of the fuselage circumference, is a "testament" to the company's "decades-long aviation experience" and engineering capabilities.
IAI's Aviation Group has developed the conversion programme – creating an aircraft designated the 777-300ERSF – in co-operation with lessor GECAS.
"Completing the 777-300ER conversion on time, and according to the planned schedule, is at the top of the Aviation Group's priorities," says general manager Yossi Melamed.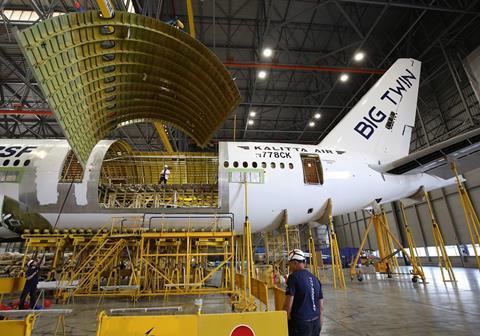 "This step will allow us – in the near future and with increased confidence – to establish more conversion lines all over the world, in order to provide services to the dozens of existing orders and to many more expected orders to come."
Although the initial aircraft is being modified in Tel Aviv, the Israeli company is planning to set up conversion lines for the type in Seoul and Abu Dhabi.