Moroccan and Israeli representatives have reached a provisional agreement over co-operation in the aerospace sector, which is likely to explore initiatives on aerostructures and cabin interiors.
The memorandum of understanding was signed during a meeting in Rabat between the Moroccan trade and industry minister, Ryad Mezzour, and Israel Aerospace Industries chair Amir Peretz.
Moroccan and Israeli ties have tightened as a result of the diplomatic normalisation between the two countries reached in 2020.
IAI says the partnership has identified a number of "investment opportunities" in the fields of aerostructures and engine parts, 3D printing, and manufacture of cabin interiors.
It adds that the co-operation could extend to establishing centres for research and development, as well as engineering, and establishing an "eco-system of local suppliers" for sourcing.
"This partnership leverages IAI's aviation expertise and the technological capabilities of our aerospace platform and its positioning as a growth driver for the investment and development in advanced industrial and aeronautical services sectors," says Mezzour.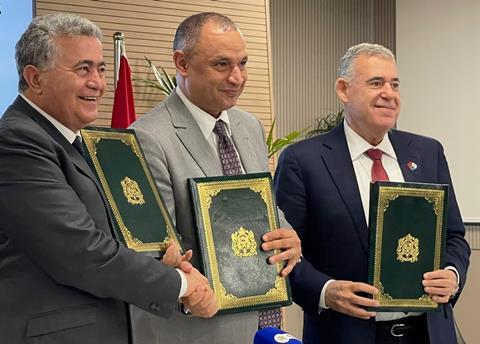 The Israeli delegation toured the Moroccan Nouaceur aeronautical centre as part of the visit.
"I am familiar with the incredible potential that exists in Morocco, and this is just the beginning," says Peretz, who was born in Morocco. "Together, we will build joint teams that will turn our vision into reality."
Moroccan carrier Royal Air Maroc recently opened services to the Israeli hub at Tel Aviv as part of the developing relationship between the two sides.