Spanish firm Iberia Maintenance is expecting to carry out work on its first Pratt & Whitney PW1100G engine next year, after securing servicing authorisation.
Iberia Maintenance says it obtained the approval from the manufacturer of the powerplant, which is an option on Airbus A320neo-family jets.
It says it has been working on obtaining the authorisation for more than two years.
This has involved investing in new engine maintenance technology, for tasks including balancing, grinding, and data acquisition.
The company, which already has capabilities to service a number of other engine types, has adapted its Madrid facility to accommodate the PW1100G.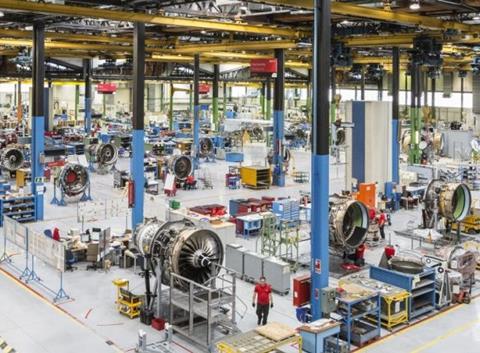 "This contract demonstrates Iberia Maintenance's high level of experience and competitiveness and its ability to adapt to new market demands," it states.
Iberia Maintenance chief technical officer Andy Best adds that the approval is a "strategic step" to expand the company's engine activities.
"[It] will allow us to consolidate our position as a full service provider in single-aisle fleets while ensuring the continuity of our workshop at the forefront of the industry's technology."
Spanish flag-carrier Iberia is an operator of A320neos fitted with CFM Leap-1A engines, but sister airline Vueling has a PW1100G-powered A320neo fleet.