Russian authorities have certified the engine for the modernised Ilyushin Il-114-300, while the manufacturer is developing derivative test powerplants for a proposed future turboprop.
The Klimov TV7-117ST-01 engine is being combined with a six-blade propeller for the Il-114.
Federal air transport regulator Rosaviatsia has issued a type certificate for the powerplant, says state technology corporation Rostec.
It says the engine, which offers increased thrust and greater efficiency, has "successfully passed" a series of certification tests and its performance checked in the "entire range" of environmental conditions using facilities at the Central Institute of Aviation Motors.
Klimov general designer Vsevolod Eliseev adds that 150h of "crucial" testing was carried out in November last year, covering various components and assemblies.
The Il-114-300 programme suffered a setback in 2021 when the prototype of a new military light transport aircraft, the Il-112V, crashed following an apparent in-flight engine fire.
Flight-testing of the Il-114 was suspended because the two aircraft were powered by similar engines.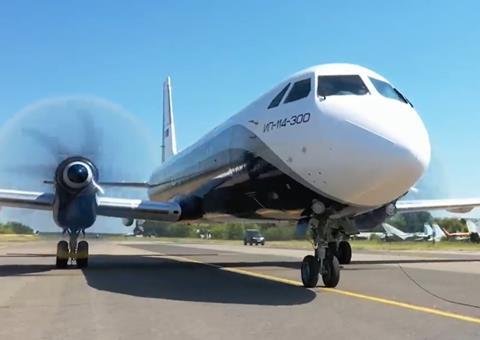 Klimov is developing another variant of the engine, designated the TV7-117ST-02, which is intended for the UZGA TVRS-44 regional aircraft.
Rostec says it aims to build four prototype powerplants – two initial ones for summer and another pair, for preliminary aircraft tests, by the end of this year.
It states that the manufacturing organisation has completed technological preparation for the work.
Russia's government had already been putting pressure on the aerospace industry to deliver aircraft with more domestic components, and this effort has intensified under the international sanctions regime.
"Creation of new passenger aircraft for regional aviation is a priority for the aviation industry," says Rostec first deputy general director Vladimir Artyakov.
Serial production of the engine is scheduled for 2025, according to Klimov's Eliseev. "The task is very ambitious," he says.
Branded the 'Ladoga', the TVRS-44 is a 40- to 50-seat aircraft which will replace ageing Soviet types such as the Antonov An-24 and Yakovlev Yak-40, as well as certain foreign models including early Bombardier Dash 8s and ATR 42s. The TVRS-44's engine is based on the TV7-117ST-01 but will have an electric starting system, plus a revised oil system and high-speed alternator.