Israel Aerospace Industries is intending to establish a Boeing 777 passenger-to-freighter conversion facility in South Korea, specialising in both -200LR and -300ER modification.
The company has reached a preliminary agreement with Sharp Technics K and Seoul's Incheon airport regarding the plan.
IAI says it aims to convert six 777s annually at the facility, which will be part of the Incheon maintenance and overhaul cluster, from 2024.
"Establishing more [conversion] facilities around the world is necessary in order to meet the expected rise in demand for widebody freighter aircraft with capacity for long-haul flights," it adds.
IAI says its Aviation Group division is "working around the clock" and intends to conclude a licensing process in 2023.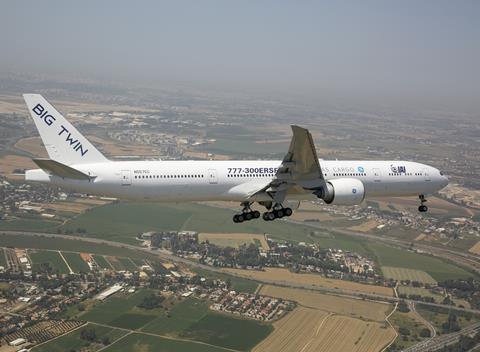 The company has been developing a modification programme and supplemental type certificate, in co-operation with US lessor GECAS, for the 777-300ER – the first aircraft is undergoing conversion in Tel Aviv.
IAI already carries out conversion work on other Boeing types including the 737, 767 and 747. Boeing's own 777F is based on the -200LR platform.
"Over the past few years IAI has transferred production of business jet wings, main frame, and parts of the tail to Korean companies," says IAI Aviation Group general manager Yossi Melamed.
He says the memorandum reached with Sharp Technics K and Incheon is "directly connected" to this "close co-operation" with South Korea's aviation industry.
Sharp Technics K is a joint venture with T'way Air and part of the broader Sharp Aviation K operation which includes ground-handling, maintenance, catering and cargo services
It says the conversion of passenger aircraft to freighters demands "tremendous" investment costs, and advanced technology, and skilled personnel.
"Although [we are] a private company, as a member of the aviation industry, we will do our best in the private sector with the vision of contributing to the development and national interests of the Korean aviation industry," says chief executive Soon-Suk Paik.