JetBlue Airways has signed a long-term Flight Hour Services component MRO contract with Airbus, becoming the airframer's first North American customer for the service.
Disclosing the deal, Airbus says the contract covers component maintenance for the carrier's A220 fleet. JetBlue currently operates three examples, having taken delivery of its first aircraft on 31 December 2020.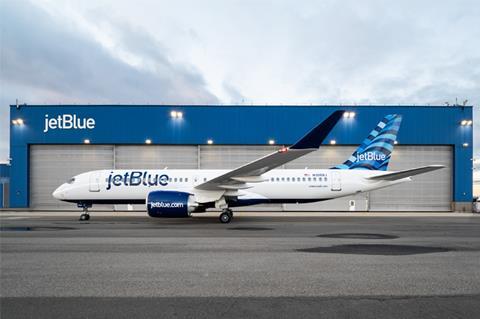 Cirium fleets data shows the carrier has another 67 aircraft on order.
"The maintenance-by-the-hour service contract includes material services with on-site-parts stock management, as well as access to Airbus' pool of parts, engineering and repair services," states Airbus.
JetBlue will be the third A220 operator to make use of Airbus' component MRO services, after European operators Swiss and airBaltic.
"This first Flight Hour Services contract for Airbus in North America confirms the growing expansion of Airbus' maintenance-by-the-hour solution to accompany traffic restart: over the last six months, eleven … contracts have been signed with operators worldwide," says Airbus.