Aircraft lessor LCI has further broadened its portfolio with an order for up to 40 Elroy Air Chaparrals – an autonomous vertical take-off and landing (VTOL) cargo aircraft that uses a hybrid-electric powertrain.
Under the deposit-backed agreement, LCI will initially acquire 20 Chaparral aircraft with an option for up to 20 more. No details of the transaction value were revealed, however.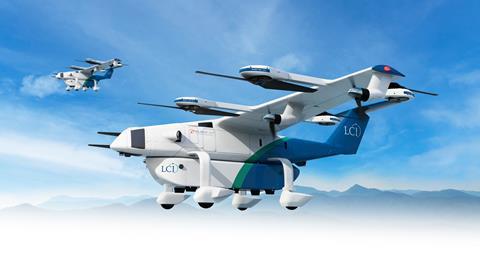 Delivery timelines depend on Elroy Air securing certification for the Chaparral, which will enter flight testing later this year, the company says.
Designed to carry a payload of up to 225kg (500lb) on routes of up to 300nm (555km), the Chaparral uses a turbine-based hybrid-electric powertrain to drive a series of distributed electric motors: eight for lift and four for forward flight.
Goods are carried in a specially designed modular pod that fits under the fuselage.
Better known as a helicopter lessor – although with a small interest in the fixed-wing segment – LCI has already signalled its interest in the advanced air mobility (AAM) market, last year placing an order for up to 125 BETA Technologies ALIA-250 eVTOL utility aircraft.
Jaspal Jandu, chief executive of LCI, says: "The AAM market forms an integral part of LCI's future growth, and this marks our second commitment in less than 12 months for these innovative and sustainable new aviation systems.
"We see their wide range of applications complementing our existing fleet of modern helicopters and fixed-wing aircraft, enabling us to offer even greater value and choice to operators across the globe."
Jandu says the deal will "strengthen LCI's position as a leading provider of leasing, financing and investing solutions for this new and exciting market."
David Merrill, chief executive and co-founder of Elroy Air, adds: "Through our agreement with LCI, the Chaparral will be available for financing - enabling much broader access to the aircraft."
Elroy Air says it has now secured commitments for more than 900 Chaparral systems worth in excess of $2 billion. Disclosed customers include AYR Logistics (up to 100 units), Bristow Group (100), FedEx, and Mesa Airlines (150). However, the company also holds orders where the buyer has not been revealed.
Ground testing of the Chaparral is to begin shortly at Byron airport in California, around 45 miles (73km) to the east of Elroy Air's San Francisco headquarters.
Initial tie-down testing will validate the software and hardware of the Chaparral before moving to flight tests later this year, confirms Merrill.
Elroy Air intends to launch operations prior to obtaining US Federal Aviation Administration (FAA) validation, in order "to serve missions and uses that do not require full FAA certification", says Merrill.
"Alongside this early roll-out phase, we are collaborating with the FAA on type certification and expect to secure type certification and operational certification within the next several years," he adds.
It sees applications for the Chaparral including disaster relief, firefighting and humanitarian missions, plus middle-mile logistics, "without risk to pilots or the need for airport infrastructure".
LCI says it is working closely with the manufacturer to introduce the aircraft to customers "as soon as practical".
While it does not have operators already lined up for the Chaparral, LCI says it has "every confidence" the system will prove popular globally.
"This commitment for the pioneering Chaparral system will enable us to efficiently support mission-critical, remote logistical work and socially responsible humanitarian efforts around the world," says Jandu.
"It will do so in complement with the wide-ranging capabilities of our existing aviation fleet."

Dominic Perry is deputy editor of Flight International but also contributes extensively to flightglobal.com. Although specialising in the coverage of the helicopter industry, he has written on most topics in aerospace – be they commercial, defence or business aviation. In addition, there has been an increasing focus on the decarbonisation of the industry and zero-emission flight initiatives.
View full Profile