Italian manufacturer Leonardo is to design and build prototype carbonfibre fuselages for the Vertical Aerospace VX4 electric vertical take-off and landing (eVTOL) aircraft at a plant currently used to produce fuselage barrels for the Boeing 787.
Under the agreement, the pair will work together on the design, testing, manufacture and supply of an initial six fuselages for the VX4's certification programme which will be made at Leonardo's Grottaglie facility in the south of Italy. That factory builds sections 44 and 46 of the 787's centre fuselage.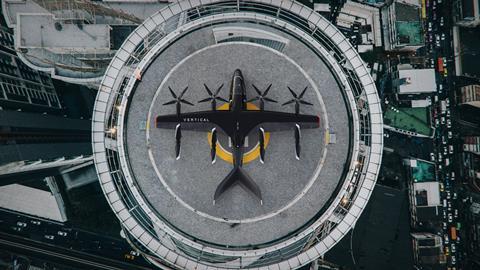 However, the pact could be expanded to "scale fuselage production to 2,000 aircraft per year" to meet current market demand for the VX4.
Leonardo's aerostructures business has struggled to achieve profitability for some time, with output over the last two years heavily impacted by the crisis in commercial aviation caused by the coronavirus pandemic.
In order to reduce the division's reliance on commercial aerospace, Leonardo has been actively seeking to diversify the business into new areas.
Giancarlo Schisano, managing director of Leonardo's aerostructures division, says:"Leonardo strives to bring new technologies, materials and processes into our established practices in our production sites. This will be the case at our Grottaglie plant in southern Italy, where we will focus our VX4 activities; the plant is one of the most advanced facilities in Europe to produce composite aerostructures."
Existing suppliers to the VX4 programme include Honeywell (avionics), Rolls-Royce (electric propulsion), and GKN (wing and wiring system). In addition, Vertical is working with composites specialist Solvay to develop advanced materials and manufacturing technologies that will enable high-volume production of the VX4.
Flight tests of the four-passenger VX4 are due to begin later this year; certification is pegged for 2024.