Leasing firm World Star Aviation is to take up to 20 Boeing 737-800 converted freighters, which will be modified by Israel Aerospace Industries.
The jets will be converted into cargo configuration at the Chinese-based facility Bedek Lingyun Aircraft Maintenance Engineering – known as Belinco – located in Yichang.
IAI says the agreement covers 10 firm aircraft plus options for another 10.
World Star Aviation, which has a presence in the USA and UK, was established in 2003 by former executives of GECAS and Triton Aviation Services.
The lessor says it specialises in mid-life aircraft and engine leasing, primarily concentrating on single-aisle Airbus and Boeing types.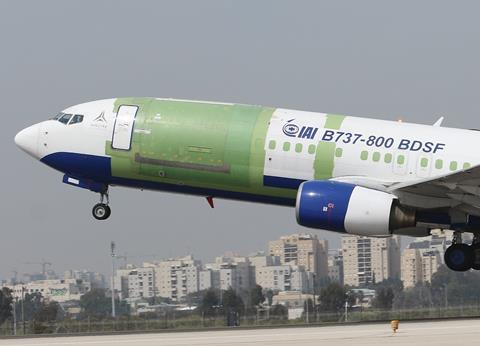 "We see this agreement as a strategic next step in the expansion of our global freighter fleet as part of our partnership with Oaktree Capital Management," says World Star partner Yoram Allalouf.
"We see the 737-800 as the backbone of the short-haul and feeder freight services."
Allalouf adds that the narrowbody freighter fleet expansion "complements" the development of its widebody freight strategy.
IAI Aviation Group executive vice-president Shmuel Kuzi says the agreement is linked to "rising e-commerce" which has led to higher demand for cargo capacity.
"I am certain we will see many more similar agreements with World Star Aviation in the coming years," he adds.