Lilium has signed two new partnership deals covering crucial aspects of its all-electric Lilium Jet.
First, it has selected Spanish aerostructures supplier Aernnova to design, manufacture and supply the propulsion mounting system on the jet.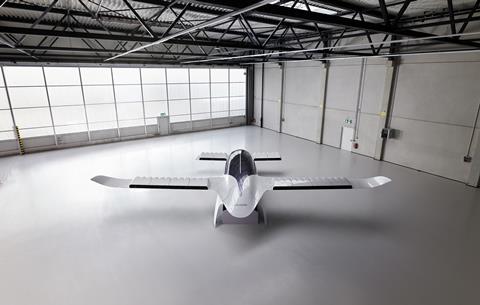 The flap structures on the rear of the wing and front aerofoils both produce lift and house the propulsion and vectoring systems. A total of 30 ducted electric fans will be integrated into the wing and aerofoils.
Lilium says the propulsion mounting system will be a "complex and unique design" and will be "modular and scalable".
Yves Yemsi, chief operating officer of Lilium, says: "Aernnova is an industry leader for customised design and manufacture of metallic and composite assemblies, which makes them an ideal partner.
"It is important to us that we collaborate with the best aerospace suppliers and leverage their expertise."
Separately, Germany-headquartered Lilium has signed a collaboration agreement with US lithium products specialist Livent to jointly advance lithium metal technology for use in high-performance battery cells.
Earlier this week, Lilium announced that it was partnering with Honeywell and Denso to co-develop the jet's electric motor.
Type certification of the seven-seat Lilium jet is forecasted for 2025.