US aerospace firm Mammoth Freighters is aiming to conduct Boeing 777 passenger-to-freighter conversions in the UK under a new agreement.
Mammoth has reached the deal with STS Aviation Services which will carry out the modification work at its Manchester facility.
The operation is part of the Florida-based STS Aviation Group.
Mammoth Freighters is planning to offer conversions of 777-200LR and 777-300ER twinjets under a programme unveiled last year.
"Ensuring that we have the right modification capacity in place around the world to meet the robust demand for the Mammoth 777 freighter programme is vital to our success," says senior vice-president of operations David Steinmetz.
He says STS has a combination of "experience, knowledge, capability" and "high-quality reputation".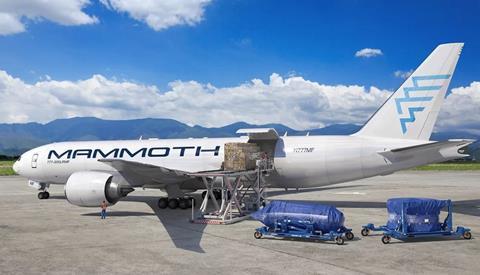 STS will also provide aircraft and spares support across Europe.
The company reached an agreement earlier this year to lease the Manchester base maintenance facility, building on its UK capabilities in Birmingham and Newquay.
Mammoth says it will begin inducting 777s for modification at Manchester in mid-2024.
"This [passenger-to-freighter] programme assures stability in Manchester from day one," says STS Aviation Services managing director Ian Bartholomew.
"[It] means we can forge ahead, investing in entry-level engineers and trainee schemes, giving them development opportunities in the area of major programmes and real-life aircraft engineering."