Irkut has flown an MC-21 test aircraft which was refitted with Russian-built Aviadvigatel PD-14 engines in place of its original Pratt & Whitney PW1400G powerplants.
The aircraft, number 73051, carried out its first flight following the engine-swap from the airframer's Irkutsk facility. This aircraft originally performed the maiden MC-21 flight, with PW1400G engines, on 28 May 2017.
After three sorties with the new engines the twinjet will be transferred to Moscow Zhukovsky to join the certification effort.
Irkut says a number of foreign-built components have had to be replaced with domestic counterparts during the switch.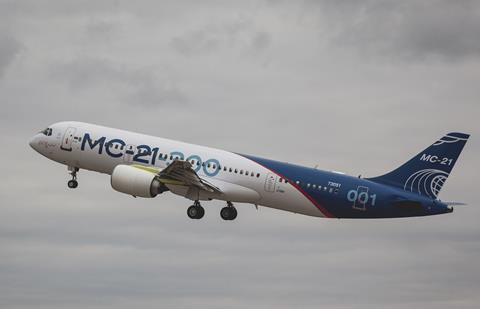 The twinjet becomes the second MC-21 to fly with the PD-14. Irkut had previously conducted PD-14 flight tests with an aircraft fitted from the outset with the Russian engines.
Irkut general director Andrei Boginsky says the company aims to achieve certification of the PD-14-powered MC-21 by the end of this year.
"The powerplant is the real 'heart' of the aircraft," he adds.
Boginsky says the introduction of the second aircraft to the flight-test programme is "one of the key stages" of the import-substitution initiative.
It will enable more frequent flights and allow fine-tuning of the MC-21's systems to optimise operations.
United Engine general designer Yuri Shmotin says the PD-14 is the "flagship" of the domestic aviation powerplant industry.