Airbus has commenced production of the initial parts for its A350 freighter, with the first components manufactured for the centre wing-box.
The airframer's newly-created Airbus Atlantic division has started producing the structure which has been modified and reinforced compared with the passenger A350 centre wing-box, with changes to the internal composite struts and its upper aluminium-lithium structure, in order to cope with the stresses of heavy cargo payloads on the floor beams.
Airbus says the first metal-cut components for the structure include the cruciform interface to the outer wing-boxes.
The parts are being built in Airbus Atlantic's Nantes facility, which has also manufactured the external foot frames which mate the centre wing-box – measuring 6.5m by 5.5m by 3.9m – with the A350F's modified fuselage shell.
"This means that the aircraft is coming to reality just under [18 months] after the new freighter was officially unveiled to the industry," states the airframer.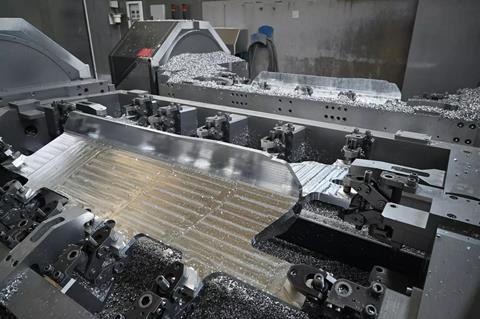 Airbus says the Nantes production line has been adapted to handle the freighter's centre wing-box, with changes to 15 of the 38 stations in the plant.
This will enable the facility to deal with all three A350 variants.
After completion the centre wing-box will be transported by road to the Airbus Atlantic plant at Montoir-de-Bretagne for fitting in the initial centre fuselage section.
This assembly with then be carried by an outsize transport – one of the Airbus Beluga aircraft – to the A350 production line in Toulouse.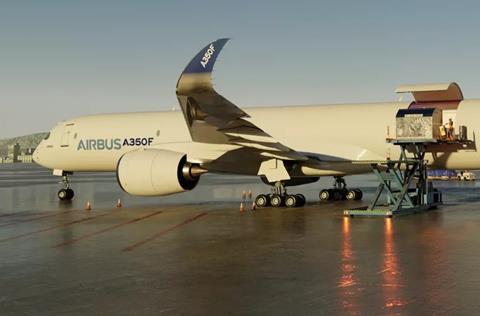 Entry into service for the freighter, which is intended to have a 109t payload capability, is scheduled for 2025.
Airbus has secured orders for 35 A350 freighters from customers including Air France-KLM Group, Etihad Airways, Singapore Airlines, Silk Way West, CMA CGM Air Cargo, and Air Lease.