Russian state technology firm Rostec has put forward a proposal to establish a special squadron of Beriev Be-200 amphibious firefighting aircraft to provide international assistance for combating wildfires.
The initiative was brought up by Rostec general director Sergei Chemezov in the context of the Hydroaviasalon forum, which specialises in the amphibious aircraft industry and alternates with the MAKS Moscow air show.
"Many countries in which the wildfire problem is acute do not have such equipment in their fleets," says Chemezov. "But they ask Russia to provide it on a seasonal basis."
He says, however, that the aircraft are often already undertaking firefighting duties within Russia, and cannot be redeployed elsewhere.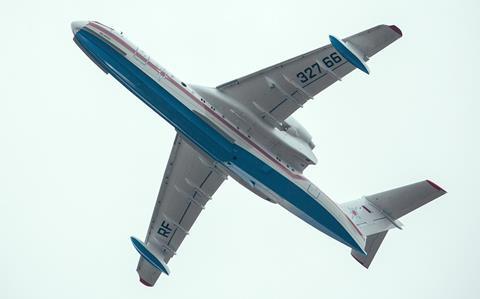 "It is not always possible to help," says Chemezov, adding that creating a specialised Be-200 squadron would be an international humanitarian project.
Rostec is expecting the country's emergencies ministry to carry out a fleet modernisation, with the order of six new aircraft.
Chemezov says that, as the ministry phases out its older Be-200s, the formation of the squadron can commence.
"There is now a steady demand for seasonal rental of amphibious aircraft with crews with experience in firefighting," says Rostec. "But it is impossible to satisfy all incoming requests due to the limited number of machines."
Be-200s have been deployed abroad this year to Turkey, spending 500h in firefighting activities, following a request from the Turkish ministry of agriculture and forestry.
Russia's United Aircraft believes the establishment of a Be-200 squadron could stimulate exports of the type.