US technology firm Parker-Hannifin is to divest its wheel and brake operation to aerospace company Kaman, to meet the requirements of competition regulators following its decision to acquire UK-based Meggitt.
Kaman says it will be acquiring the Aircraft Wheel & Brake business for $440 million in an all-cash transaction.
The European Commission had approved Parker's proposed £6.3 billion ($7.9 billion) acquisition of Meggitt earlier this year, with conditions including the sale of the Ohio-based wheel and brake division – a commitment which had been offered by Parker.
This division produces systems and associated hydraulics for a range of business aircraft, helicopters, military aircraft and general aviation.
"This is a great business with strong foundations for growth, an outstanding team and a clear strategy for future success," insists Parker's aerospace group president Roger Sherrard.
Parker expects the Meggitt acquisition to close in the third quarter of this year, pending regulatory clearance. It says the divestment will have "no bearing" on its operations, or those of Meggitt, in the UK.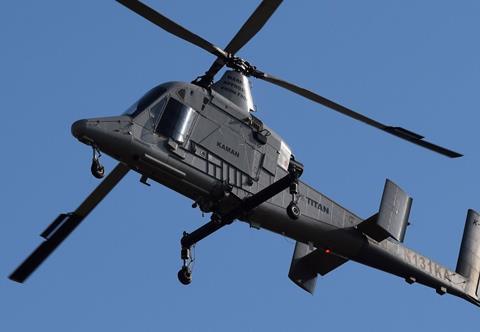 Kaman says the acquisition will be financed with cash-on-hand and debt, and that the deal will be accretive to margin and cash-flow within 12 months of closing. It says the acquisition price represents a multiple of 14 on EBITDA.
The business has a "strong product portfolio", states Kaman, supporting over 100 fixed-wing and rotorcraft platforms.
Kaman chief executive Ian Walsh says the company has a "strategic priority" to expand through mergers and acquisitions in markets it knows well.
"The complementary acquisition of Aircraft Wheel & Brake will advance this strategy by expanding the breadth of our product offerings, increasing our exposure to attractive markets, and driving meaningful near-term margin and cash flow accretion," he adds.
Kaman, which expects the acquisition to close by the end of the year, says it will increase its exposure to "attractive" aerospace and defence markets with "significant growth potential" and offers the chance to increase the company's position in "higher-margin" aftermarket products.