Piaggio Aerospace has secured a €125 million ($137 million) contract for maintenance and support of the fleet of P180 Avantis operated by the Italian armed forces – the latest in a series of deals placed with the cash-strapped manufacturer by the country's government.
The nine-year deal, signed on 20 May, brings to €640 million the total value of commitments awarded by Rome to the Ligurian firm. Crucially, it came just nine days ahead of a deadline for parties to submit expressions of interest in acquiring the airframer.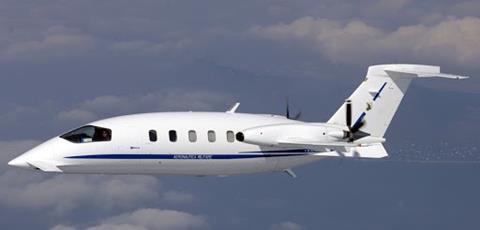 Piaggio in December 2018 entered extraordinary receivership – a process in Italy specifically aimed at industrial insolvency and company restructuring – after Abu Dhabi wealth fund Mubadala, its sole shareholder, pulled out.
The firm's extraordinary commissioner, Vincenzo Nicastro, opened the bidding process on 26 February, with a deadline for submissions originally set for 24 March. However, continued disruption caused by the coronavirus outbreak – which forced Italy into lockdown on 9 March – persuaded Nicastro to extend the deadline to 29 May.
Under the terms of the latest contract, Piaggio will provide scheduled and unscheduled maintenance on 25 P180s, which are operated by the air force, army, navy and Carabinieri in passenger transport, air ambulance, flight inspection and training roles.
The deal also covers the supply of spare parts for the twin-pushers, and a commitment to keep the fleet airworthy, says Piaggio.
"The contract… allows us to further strengthen Piaggio's distinctive positioning in the maintenance of both aircraft and aircraft engines – a sector that sees the company competing with the main international operators," says Nicastro.
He describes this latest deal as "a new and important step in the project to create a single, national [aircraft and engine maintenance] hub" for the armed forces, "and a further step in the process of relaunching the company".
"Piaggio goes to potential buyers… with a significant orderbook," says Nicastro, which he hopes will make the company more attractive to potential bidders.
He plans to sell Piaggio in its entirety to a buyer who has a long-term vision for the company.