Rolls-Royce's level of large civil engine flying hours has recovered to around 50% of the pre-crisis figure in 2019, benefiting from the re-opening of transatlantic services and other important route sectors.
The level has risen from the average of about 43% in the first half of the year, the company states in a third-quarter trading update.
Installed engine sales and aftermarket shop-visit activity are both lower than during the previous year, it adds, and at the "lower end" of the guidance given at the half-year point.
Engine flying hours for business aviation, it adds, remain above those for 2019.
Rolls-Royce says its overall improved trading performance – driven by international flying, resilience in the defence sector and a recovery in its power systems business – returned the company to positive free cash-flow during the third quarter.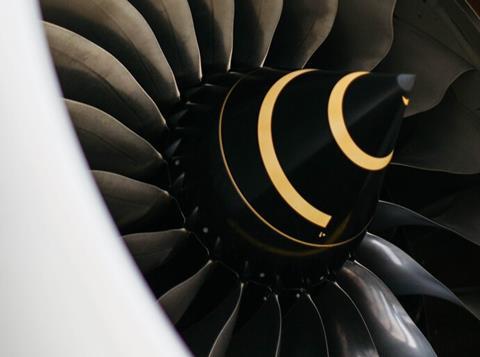 It is also benefiting from delayed delivery of aircraft for which it has already supplied engines, as some £300 million ($396 million) in concession outflows originally expected this year will be pushed into 2022.
As a result it expects its free cash outflow for the full year to be "better" than the £2 billion figure in previous guidance.
Rolls-Royce adds that its restructuring programme, unveiled in May last year, is delivering cost savings "more quickly than initially anticipated".
It expects to have removed 8,500 roles by the end of the year and the company says the progress puts it in a good position in regard to its £1.3 billion savings target for the end of 2022.
"We have achieved good results with our fundamental restructuring programme, as we sustainably reduce costs and deliver a leaner and more efficient company, and are firmly on course to complete our disposals programme," says chief executive Warren East.
The company has been working to raise £2 billion through disposals, anchored with the €1.7 billion ($1.9 billion) divestment of Spanish firm ITP Aero.
East adds out that Rolls-Royce has secured a "significant" contract in defence through the re-engining programme covering 76 US Air Force Boeing B-52s.