Rolls-Royce has disclosed that large-engine flying hours over the first half remained 57% down on 2019, but showed improvement on the 66% reduction recorded in the second half of 2020.
The company also reveals that large-engine flying on domestic routes lifted above 2019 levels in May, and that for business aviation engines passed a similar mark by the end of the first half.
International travel, however, remains on a more gradual recovery trajectory, it says, and continues to be "hindered" by travel restrictions.
Its civil aerospace division benefited from the improvement, as well as the manufacturer's extensive restructuring programme, and generated an underlying operating profit of £39 million ($54 million).
Rolls-Royce delivered 100 large engines compared with 137 in the first half of last year – reflecting the manufacturing schedules of twin-aisle aircraft customers – and this decline showed up in a 13% fall in underlying revenues to £2.17 billion, including a 40% drop in original equipment revenues.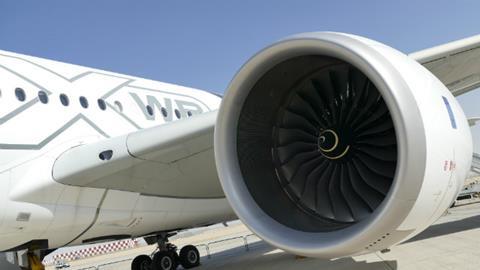 Services revenues were up by 10%, reaching £1.4 billion, including long-term service agreement "catch-ups" of £160 million – although this was offset by lower shop-visit volumes. The company says 92 major shop visits for large engines were completed over the six-month period.
Rolls-Royce says it expects the recovery in business aviation and domestic flying to be "sustained" and that there will be a "continuation" of the gradual improvement in international flying.
Chief executive Warren East says the reduced cash outflow and improved operational efficiency in the civil aerospace operation are evidence of the effects of its restructuring effort.
"This leaner cost base together with a strong liquidity position gives us confidence in our ability to withstand uncertainties around the pace of recovery in international travel and benefit from the eventual rebound," he adds.