Rolls-Royce has secured European certification for the Pearl 700 engine which powers the Gulfstream G700 and G800 executive jets.
The engine is the sole powerplant for the long-range aircraft. It features the company's Advance2 core, a new low-pressure system, and generates take-off thrust of 81kN (18,250lb).
Rolls-Royce says the test programme has including demonstration of performance with both conventional and fully-sustainable fuel, as well as the regular exposure to water and ice ingestion, blade-out and bird-strike.
The company developed the engine at its German business aviation centre in Dahlewitz, but the testing was also conducted at various locations including the UK, Canada, and USA.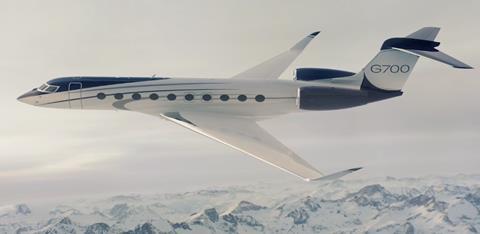 Rolls-Royce business aviation director Dirk Geisinger says the European Union Aviation Safety Agency certification reinforces the company's capabilities to design and build "pioneering" engines.
"It also reflects the dedication of our global team to support Gulfstream and the entry into service of the G700 and G800," he adds.
Gulfstream president Mark Burns says the engine, combined with the airframer's wing and winglet, gives the two aircraft "impressive" performance.
"With these powerful advancements, Gulfstream customers can reap the benefits of large cabins with enhanced comfort," he adds.